Get Back to Living Your Life
Occupational Therapy Services
Occupational Therapy helps people live their day-to-day lives. At Wolf Wellness Center & 24/7 Fitness, we work with patients of all ages to help them improve their fine motor skills and sensory processing so they can work and live without injury or a disability hindering their activities.
Take the first step toward a healthier you!
LSVT BIG Program
Wolf Wellness Center & 24/7 Fitness is proud to be one of the few clinics certified in the LSVT BIG Program. This cutting-edge program is designed to help those with Parkinson's disease or other neurological disorders improve their movements and use their body more normally. Its goal is to teach individuals to "recalibrate" their movements for both large and small motor tasks and help maintain range of motion, strength, and mobility.
LSVT BIG treatments are customized to your individual needs and goals and can help regardless of the stage or severity of your condition. This treatment may be most effective in early or middle stages of your condition, before you've noticed significant problems with mobility, posture, and balance. However, it is never too late to start and LSVT BIG can produce significant improvements for people facing considerable physical difficulties.
Urinary Continence Improvement
In the United States, more than 25 million people experience bladder leakage every day. Urinary incontinence can often get in the way of a person's daily activities. Our experienced Occupational Therapists offer a safe, non-invasive, highly customizable approach that utilizes a combination of innovative rehabilitation technologies and treatments. This includes electrical stimulation, static and dynamic balance training, postural exercises, breathing exercises, neuromuscular re-education and more.
Our programs aim to help decrease bladder leakage, strengthen the pelvic core and improve function, decrease the risk of pressure ulcers, decrease incontinence related falls and injuries, and improve your quality of life. Our experienced Occupational Therapists work one-on-one with a patient to reduce the frequency of urinary incontinence and improve their pelvic core strength, reduce occurrence and frequency, and enhance their overall quality of life.
Stroke Rehabilitation
Our Occupational and Physical Therapists help stroke patients return to normal life by improving their sensory and motor skills. In short, patients relearn basic but valuable skills, including getting dressed, speaking, using a computer, etc.
Fibromyalgia Treatment
Wolf Wellness utilizes the research of leading medical institutions, like the Mayo Clinic, to determine the best practices for the treatment of fibromyalgia. We offer a multi-pronged approach that supports relaxation, detoxification, stress reduction, exercise, and your nutritional needs.
Pediatric Services
Wolf Wellness Center offers pediatric therapy services including Occupational, Physical, Speech therapy and behavioral health to clients ages birth to 21 at our Eureka Springs Facility. Click here to learn more. Fax Physician referrals to 479-363-6763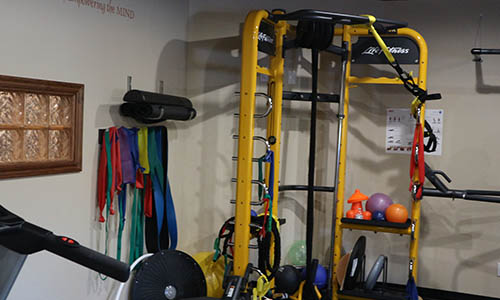 Physical Therapy Services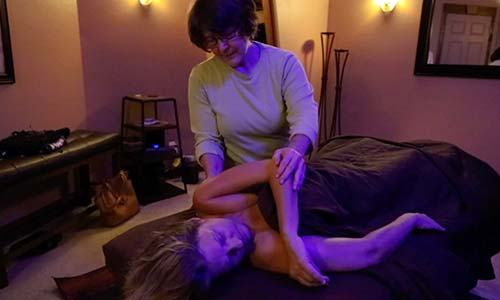 Interested in our Occupational Therapy services? Our team can help! Contact us to learn more about what we offer.
Wolf Wellness Center & 24/7 Fitness
23 Parkcliff Dr.
Holiday Island, AR 72631
Therapy Clinic
(Speech, PT, OT, and Counseling)
Monday-Friday 8:30-4:30
Gym/Fitness Center
24/7, 365 Days